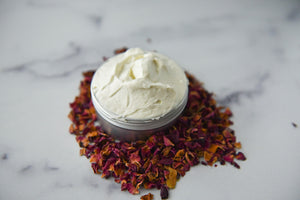 Available for a limited time only, right in time for Valentine's Day.
Our body butter is filled with skin nourishing ingredients that leave your skin soft and well moisturized. It is great very year round use, especially in the fall and winter months.
Ingredients:
Shea Butter, Cocoa Butter, Grape Seed Oil, Castor Oil, Argan Oil, Arrowroot Powder,  Kaolin Clay, Fragrance/Essential 
Sweetgrass rose has scent notes of Rose, Lotus Flower, and Vanilla.