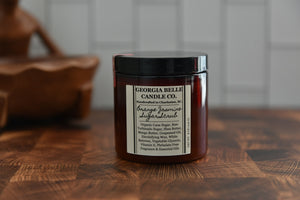 Powered by Orange Essential Oils and Phthalate Free Fragrances
Course Emulsified Sugar Scrubs Exfoliating with a sugar scrub can help create the appearance of smoother, glowing skin. Our scrubs contains Cocoa Butter, Shea and Mango butter, and Grapeseed oil which keeps your skin cells healthy, protects your skin from UV radiation damage, and helps your skin look smooth, soft, and free of fine lines. The fatty acids help your skin retain moisture and can heal chapped and irritated skin.
Unlike other brands, we use a blend of waxes in our scrubs for a different feel. Instead of the oily feeling, it leaves your skin moisturized like lotion.
Ingredients:
Organic Cane Sugar, Raw Turbinado Sugar, Shea Butter, Mango Butter, Grapeseed Oil, Emulsifying Wax, Apricot Oil, White Beeswax, Vegetable Glycerin, Vitamin E, Phthalate Free Fragrance.