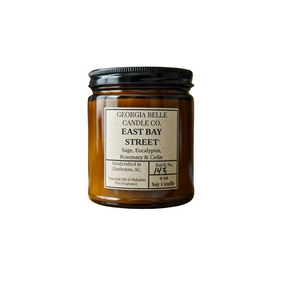 A new fragrance that can be burned anytime of year.
Introducing our new scent East Bay Street. Which features an herbal blend of Sage, Rosemary, Eucalyptus, Cedar, Mint and other undertones.
100% Soy candles in various scents. All hand poured. Soy burns with a cleaner and stronger scent. This particular wax burns at a slower rate with no additives unlike other store brands.
Burn Time
9 oz Burn Time: 45-48 hours
Scent Notes
Top: Eucalyptus, Pine, Sage

Middle: Rosemary, Green Floral, Lemon

Base: Cedar, Mint, Juniper