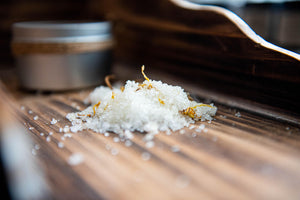 Introducing one of our newest additions to the Bath Line. This soak is awesome for achy joint, post workout recovery, and monthly menstrual cramps. Or just to relax!
 With the addition of Hemp Seed Oil, it adds a special pain relief benefit.
 Placed desired amount under warm to hot water. (1-2 tablespoons)

Ingredients:
Dead Sea Salt, Goat Milk Powder, Baking Soda, Citric Acid,  Hemp Seed Oil, Calendula Flower, Sodium laureth sulfate, Castor Oil, Lavender& Eucalyptus Essential Oils.
3.0 oz Net Wt